Cruise ship
Passenger ship used for pleasure voyages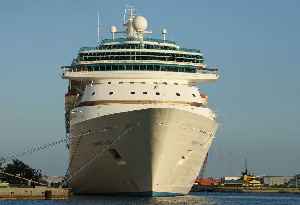 A cruise ship is generally a large passenger ship used for ocean voyages in which the voyage itself, the ship's amenities, and usually the different destinations along the way each form part of the passengers' experience. There are also smaller river cruise ships. Transportation from one port or another is usually not the main purpose of the voyage. Voyages that return passengers to their originating port are sometimes known as "closed-loop" cruises. On "cruises to nowhere" or "nowhere voyages", cruise ships make two- to three-night round trips without visiting any ports of call.


GM's Cruise unveils its first driverless vehicle
The launch comes six months after Cruise delayed its self-driving vehicle service in San Francisco.
BBC News - Published
'Go on a holiday and not return': Cruise passengers shaken by New Zealand tragedy
Tourists from the cruise ship that was near the volcanic island in New Zealand when it erupted arrived in Wellington on Thursday, many traumatized by the deaths of co-passengers and others recalling..
Reuters - Published
Cruiseliner passengers set foot in Cambodia
Passengers onboard the MS Westerdam cruiseliner were able to finally disembark to the Cambodian port town of Sihanoukville on Friday (February 14) , after two weeks at sea.
Credit: Reuters Studio Duration: 01:30Published
Cruise Ship to Dock in Cambodia After Being Stranded at Sea Over Coronavirus Fears
The MS Westerdam has been stranded at sea since Feb. 6, when Japanese Prime Minister Shinzo Abe denied its docking in the country over fear of COVID-19.
Credit: Cover Video STUDIO Duration: 01:21Published
Cruise Ship Quarantined Due to Coronavirus Outbreak
The Princess Diamond cruise ship is entering its third full day of quarantine after a disembarked passenger tested positive for coronavirus.
Credit: Cover Video STUDIO Duration: 01:09Published
Confirmed Coronavirus Infections On Cruise Ship Climbs To 20
Ten more people on a quarantined cruise liner have tested positive for the deadly coronavirus. The new cases bring the number of infected passengers to 20 with test results on more than 170 still..
Credit: Wochit News Duration: 00:32Published
3,700 Cruise Ship Passengers Quarantined Onboard
Staff on the cruise ship Diamond Princess got some viral news on Thursday. Reuters reports 10 people on board had tested positive for novel coronavirus. The cruise liner was in the port of Yokohama,..
Credit: Wochit News Duration: 00:34Published
Five Places Being Ruined By Cruise Ships
1. Barcelona, Spain features the most-polluted port in Europe. 2. A cruise ship once spilled food waste in the Great Barrier Reef, Australia. 3. Tourists doubled the garbage in Santorini, Greece in the..
Credit: Wochit News Duration: 00:32Published
Exclusive: U.S. clears SoftBank's $2.25 billion investment in GM-backed Cruise
Cruise, a U.S. self-driving vehicle company majority-owned by General Motors Co, told Reuters on Friday that a U.S. national security panel approved a $2.25 billion investment in the firm by Japan's..
Reuters - Published
Search this site and the web:
You Might Like